Once the most popular eWallet for US online gamblers, Neteller is aiming to reclaim that title while supporting international gamers as well. Recently arriving in New Jersey virtual casinos as a non-prepaid electronic wallet option, Neteller is also gaining popularity as a legitimate online gambling account funding option at the top offshore casinos. This means that if you do not happen to live in one of the few US states which runs its own online gambling operation, you can still legally and legitimately make safe and secure Internet casino, sportsbook and/or poker room deposits using this established and trusted online payment processor. Optimal Payments is the provider of Neteller electronic payment processing, and in many countries,you can not only hold a virtual Neteller account, but you can also receive a physical Net+ prepaid card which allows you brick-and-mortar access to your money as well.
Top Online Casinos That Accept Neteller

Bet365 Casino is our featured Neteller accepted site and is a giant in the online betting industry. They offer 200+ casino games, live dealers, sports betting, poker and so much more all under one player's account. Payouts are fast too.
Reputable Sportsbooks That Accept Neteller Prepaid Deposits
Most Reputable Online Poker Sites That Accept Neteller
How Neteller Works As A Layer Of Safety
In states like New Jersey, Nevada and Delaware in the US, rejected credit card deposit attempts can run extremely high. That is why Neteller has pushed to reemerge as a significant and respected option to prepaid gambling accounts. Functioning much like Skrill (formerly Moneybookers), Neteller provides a trusted middleman between your bank account or credit card and your preferred Internet casino. Just as a firewall protects your physical hard drive on your PC or laptop from possible dangers on the web, Neteller delivers a wonderful insulating layer between your financial life and your web activities. Creating an Neteller account is quick and easy. You simply head over to the official site, sign up for a free account and add either your bank or credit card information. You can then choose Neteller from the deposit options offered by the top online casinos and poker rooms, and deposits are transferred instantly.
Multiple Neteller Benefits Including Net+ Prepaid Card
One of the many benefits of Neteller allows you to your hold an account balance with them, or have that money returned to your bank or credit card. The Net+ option we mentioned earlier gives you a physical, prepaid MasterCard which you can use online and in your "real world" activities. The process really is that simple and speedy, which is another benefit. When you head to the Neteller site, you will see a "Join for free" button. And the amount of information that you must enter to open your account is extremely limited, which is another one of the attractions of this particular online gambling deposit method. You then attach a credit card and/or bank account, and you can instantly send and receive money to and from thousands of websites. The user interface is extremely simple and streamlined, and the Neteller customer service is always available and friendly. Also, mobile access is supported.
Aside from making Internet gambling deposits with Neteller, more and more websites are offering this as a withdrawal option as well. You can choose to use Neteller as a go-between from an Internet casino, poker room or sportsbook to your banking account, simply access your money from your physical Net+ card, or have a mail or courier check sent to you. Reviewing the security and privacy offered by this well respected payment processor reveals a very safe and secure experience. Privacy and fraud protection include 128 bit data encryption technology, real-time transactional monitoring and identity verification procedures. And when you deposit into your Neteller account with a credit card, special 3-D Security is added. Verified by Visa and MasterCard SecureCode mean that Neteller joins your preferred credit card provider in delivering multiple layers of financial security.
When conducting our Neteller review, we found that the company also accesses industry fraud blacklists while employing multiple firewalls. Security code verification is another step which helps protect your sensitive personal and financial information, and continual account surveillance is guaranteed. As far as safety, speed and security, Neteller cannot be beat as an online payment processor. When combined with the thoroughly reviewed and recommended sports betting websites, poker rooms and virtual casinos we list on our site, you enjoy one of the most trusted and reputable eWallet solutions available for online gambling. For quick Neteller access click on the provided links to learn more, or to sign up and claim a generous welcome bonus.
In closing, Neteller is by far the best service to use for your gambling deposit needs. They are safe, secure and offer a wide variety of benefits that streamline the entire process of both depositing and getting paid from most online gambling sites. At one point there were many online casinos that offered instant neteller withdrawals. Meaning you hit the cashout button, and your winnings were instantly transferred to your Neteller account. While that option is no longer available, most reputable casinos will process your payout to Neteller within 48 hours compared to waiting days for a check to arrive. We just can't say enough good things about this company and encourage any international player to look into what this company has to offer.
Visit Neteller.com to learn more about how this deposit method works, fees and other important information about their prepaid card.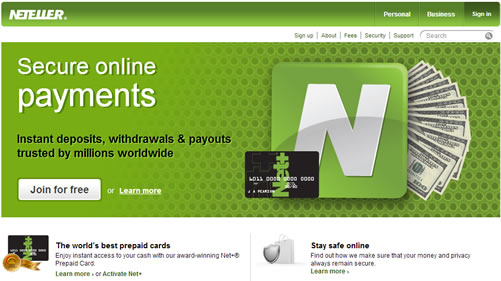 Neteller Parent Company PaySafe Acquires Skrill 
Paysafe is now the parent company for the two biggest eWallet services in the world; Neteller and Skrill. Both eWallet service will remain free, but account holders will notice a policy change. An inactive account will now be charged $5 a month after 12 months, and all accounts will be subject to an anti-money laundering oversight.