Prepaid Sports Betting Guide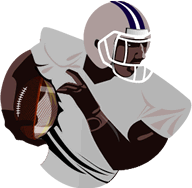 Players in the United States are now limited to using either credit cards or prepaid deposit options for funding their sports betting accounts. Not all players are eligible for credit card accounts, and not all players want to involve their credit card accounts in their online gambling activity, making prepaid sportsbook deposit options a preferred solution for many sports betting fans.
This guide will review which prepaid payment solutions are optimal for funding your online sportsbook account, and also what goes into safely selecting the most trusted prepaid sportsbooks. These are the two areas of prepaid sports betting that cause players the most confusion and questions, so we thought it would help to address these areas in detail.
You will also find information on the fastest paying sportsbooks, comprehensive reviews on prepaid casinos for those players looking to use prepaid deposits to fund their casino gaming, as well as prepaid poker for those poker players who are looking for the perfect blend of a secure online poker experience funded by a trusted prepaid payment method.
Top Sports Betting Sites That Accept Prepaid Deposits
Which Prepaid Sports Betting Deposit Methods Should I Consider?
Update For 2017: Ever since Bitcoin started to become widely adopted across the gambling community, most other prepaid options that we review below are no longer an option for the most part. You can check out our list of online sportsbooks accepting prepaid Bitcoin deposits.
There are a few key prepaid sportsbook deposit options that you can consider. The most reliable prepaid option for funding your online sports betting are prepaid sports betting vouchers, such as PasteandPay. This prepaid voucher system also goes by the name EZ Voucher or Secure Voucher Payments in the sportsbook cashier menu and allows bettors to purchase a virtual prepaid voucher in a designated amount and then redeem that voucher at their chosen online sportsbook. Bettors can use their credit or debit card to purchase the voucher, and your funds are immediately available for use. We have personally used this prepaid payment option at the online sportsbooks featured below with no problems or issues arising on any occasion.
There is also a fairly new approach that includes a prepaid cash card solution. For these types of deposits, you purchase a prepaid card for cash, and then send either the 10 digit code from the card or the card itself (depending on which type of card you select), and the participating sportsbook actually makes the transfer of funds to your account for you based on the code or the card that they receive.
It has been widely successful thus far and is currently only accepted at one sportsbook, Betonline (you will find the link in the table below). There are four versions of this card to choose from, and we've provided reviews of each of them: Vanilla Reload, Reloadit, PayPal My Cash and Walmart Gift Cards.
The other prepaid sportsbook deposit option is prepaid debit cards. These prepaid cards are not quite as reliable as PasteandPay vouchers but do provide many players with a successful and viable prepaid payment solution to use for funding their sports betting activity. The prepaid cards we recommend are associated with the major credit card brands and include prepaid Visa, prepaid Master Card, and prepaid Amex.
Each of these brands offers prepaid options as either a reloadable prepaid debit card or a prepaid gift card version. They can be purchased at physical retail locations such as drug stores, convenience stores, gas stations, and department stores such as Walmart, or virtually at online retail locations. I myself have used a variety of prepaid debit cards and have had mixed results. In most cases, the transaction approval was obtained without a hitch, however, there have been instances where we could not obtain a prepaid debit card approved after multiple attempts. It's just going to be hit or miss when it comes to this option, with success most of the time, failure some of the time.
One thing that will guaranteed transaction approval is if you obtain a prepaid debit card that can be used for International purchases. Since the legal prepaid sportsbooks that we feature are located outside of the USA, an Internationally accepted prepaid debit card will work best. If you are considering prepaid debit cards, then GreenDot MoneyPak is also a strong option to consider.
UK and other non US players have some additional options to consider when funding their online sportsbook account, including Ukash, PaySafeCard, EcoPayz, WebMoney, EntroPay, Neteller, PayPal, and Skrill. Each of these solutions offers bettors the opportunity to use cash or their credit/debit card to prepay for their sports betting activity. They also each utilize high-level security protocols to ensure that you and your sensitive data are well protected so that you have no worries making your funds transfers safely and in real-time.
How To Select A Legitimate Online Sportsbook That Accepts Prepaid Cards and Vouchers
Our team of online gambling professionals has spent a great deal of time and effort vetting the fastest paying prepaid sportsbooks. We've used a complex review process to accomplish this, and as part of this guide we are sharing some of the key elements that determine the worthiness of any sportsbook brand to be included here. It will always be safest to rely on a trusted guide in which professionals have vetted the gambling sites, however, should you determine to endeavor to complete the review process yourself, we want to make sure you are aware of the most critical components in any online gambling site.
First, we verify that the prepaid sportsbooks we feature are operating legitimately. They must be legally licensed and compliance certified by a recognized and respected governing jurisdiction and subject to strict regulatory oversight. We require a sophisticated security profile that includes advanced SSL coding and data encryption technology, as well as cutting edge anti-virus and firewall protection.
There must be effective fraud prevention systems in place along with a highly trained technical team to monitor these systems. We want to see a secure, user friendly and innovative user interface, an efficient banking suite, and strong customer support team. There must be a wide range of betting lines and wagering options for players, and their reputation among players and industry professionals must be impeccable. We want to see events from the NFL, NBA, MLB and NCAA college event as well. Additionally, we hop to find a wide range of other sports covered, as well as entertainment, financial and political wagering available.
We do a great deal of research, testing, and careful evaluating to determine that a brand is worthy of inclusion in our guide so that we only recommend the most secure, reliable and top rated prepaid sports betting brands.
Below are the results of our careful research and evaluations. This list reflects the industry leading prepaid sportsbooks that operate on the highest levels of professionalism, integrity, and quality. They also offer some nice bonuses and incentives for trying them out, and treat players well. Your safety and the security of your funds are a priority at these brands, and they have consistently demonstrated their commitment to this element.
We are confident that you will find an overall high quality and pleasing online sports betting experience at any of these sportsbooks. The first five brands accept each of the prepaid sportsbook deposit methods mentioned above, including prepaid vouchers and prepaid credit cards, while the remaining sports betting site listed accepts prepaid debit cards from one or more of the leading brands.