Visa Prepaid Gambling Sites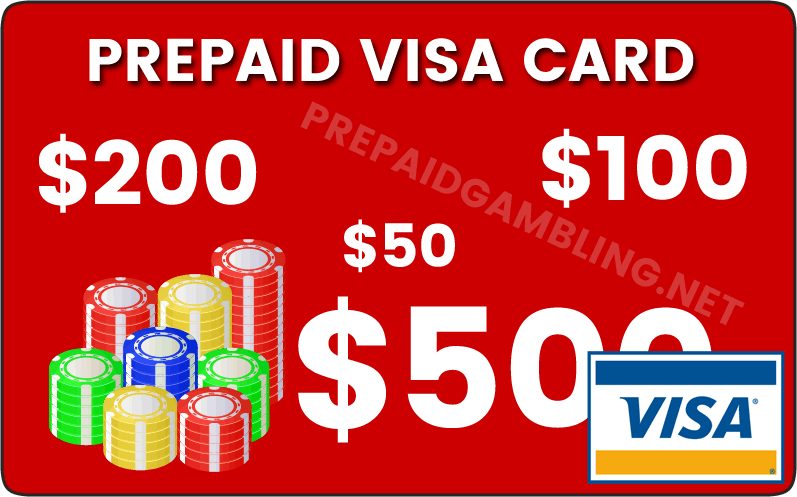 Visa is the most widely held credit card brand in the world. Customers trust the Visa brand and know that their money is secure when Visa is involved. Along with credit cards, Visa also provides prepaid debit cards and prepaid gift cards. The Visa prepaid card has become a reliable option within the online gambling industry for players who experience challenges in using their traditional credit card, as well as players who simply do not want to use their credit card to fund their online gambling. The prepaid Visa card does provide multiple benefits for players, including security, convenience, and reliability, and spans a variety of platforms, including prepaid casinos, prepaid sportsbooks, and prepaid poker rooms.
Casinos That Accept Prepaid Visa Deposits
If you find that you have any difficulties using your prepaid Visa Card to fund your online casino account, then try MST Gift Card Casinos or Bitcoin Casinos which are both guaranteed to work.
Sportsbooks That Accept Visa Prepaid Cards
Poker Sites Accepting Prepaid Visa Deposits
Benefits Of The Prepaid Visa Card
Using prepaid Visa card deposits to fund your online gambling account is an option that many players are finding advantageous. There are several types of players who lean towards using this funding method. For example, players who do not have any credit card accounts either by choice or not being able to meet the credit worthiness requirements, as well as those who choose to operate on a cash basis and not from a checking account where most debit cards are issued from are prime candidates for a Visa prepaid card option. These types of players are able to conveniently avoid the constraints that credit card and checking account structures require when opting for the flexibility that the prepaid cards provide. This is pretty true of prepaid gambling deposit options in general.
Some of the benefits that drive players to use the prepaid Visa card gambling method include additional security since your personal financial information is shielded from all third party merchants when using prepaid cards, self imposed spending limits that the nature of a prepaid payment method operates within, and anonymity that provides a peace of mind to many players. Visa utilizes Verified By Visa, which is an enhanced security feature to protect cardholders from fraud and theft.
How Prepaid Visa Card Gambling Works
Using prepaid Visa gambling options is really very easy, and these cards are also easy to find. I have purchased prepaid Visa cards at Walmart, Walgreens, and CVS. Some prepaid Visa cards are featured under an additional brand, such as GreenDot. You actually use this method the same way that you would use your credit card for any type of online shopping. You can use prepaid Visa cards at any of the trusted online casinos, sports betting sites, or poker rooms accepting Visa. You just log into your account and select Visa from the cashier menu, and proceed to enter the data from your prepaid Visa card.
There is one suggestion that will ensure the successful approval of your transaction, and that's by purchasing a prepaid Visa that can be used on International purchases. Because the majority of legal online gambling sites are based and regulated outside of the United States, your Visa card needs to be able to facilitate off shore purchases. This isn't always easy as those terms aren't always printed on the outside packaging of the prepaid card.
I personally have used a prepaid Visa debit card to fund my online gambling accounts. Honestly, it can be a little bit unpredictable. Sometimes the approval goes through on the first time, sometimes with a particular card it doesn't go through at all. The only way I know for sure it will go through without a hitch is if the card can be used Internationally. Otherwise, its a bit if a hit and miss and I often opt to just use one of the alternatives recommended on this site.
If you run into difficulty using a prepaid Visa card (or other prepaid brand) to fund your account, there are some other options available for you, including MST Gift Cards. All of these are US friendly and typically don't give players any trouble. My preferred alternative to prepaid Visa are MST gift cards, they have never let me down and are really easy to use. Learn more on our page dedicated to MST Gift Card gambling deposits.
Below you will find the most secure and reputable online gambling sites accepting prepaid Visa card gambling deposits. They have each been vetted by our team, and have all been verified as legally licensed and regulated, holding world class security profiles, and offering an overall high quality gambling experience. We ourselves are registered players at each brand we recommend, so we can personally attest to their level of performance and the quality of their security and services.
Additional Prepaid Debit Cards:
Prepaid Options For UK And International Players
Casino Games Available At Most Visa Accepted Casinos
Slots, Blackjack, Roulette, Baccarat, Video Poker, Craps, Keno and many others. Most online casinos offer anwhere from 100 games up to 500 plus.
You can contact Visa for any questions about their prepaid cards on their official website: Visa.com or via email: AskVisaUSA@visa.com
Disclaimer: Visa does not endorse this website or any other online gambling resource/betting venue.