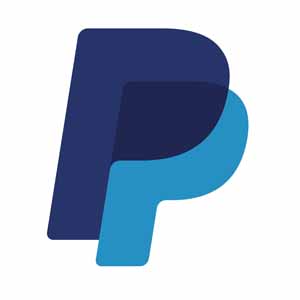 One of the most attractive things about having a PayPal account is the flexibility of this online payment method. The PayPal brand was initially hosted exclusively by eBay, but it's now the industry standard P2P app and the most popular option for transferring funds online for online shopping, bill payment, sending money to friends or family, and online gambling entertainment. PayPal can literally be used for nearly any kind of e-commerce transaction!
The flexibility of the PayPal service allows players to use their account as a prepaid gambling funding option through several different avenues which are explained on this page. Currently, PayPal is willing to process gambling-related transactions for International players directly but must be used indirectly for US players.
For this latter customer base, a few prepaid gambling sites allow for gambling vouchers using PayPal, while other sites almost universally accept PayPal Cash Card (i.e. Mastercard) payments. You can even buy Bitcoin and other cryptocurrencies with PayPal, though transfers are currently not supported. Read on to learn about all your PayPal online gambling banking options!
UPDATE on PayPal for US players: As of Q1 2021, the PayPal My Cash prepaid card option is no longer supported. If you had a balance on this service, PayPal customer service will help you transfer that balance to new PayPal options currently available on the PayPal network.
Reputable Online Casinos That Accept Paypal
Online Sports Betting Sites That Accept Paypal
| Site | Bonus | Rating | USA | Visit |
| --- | --- | --- | --- | --- |
| | 100% Max $750 | 5.0 ⭐️ | | Visit Site |
Poker Rooms That Accept Paypal
| Site | Bonus | Rating | USA | Visit |
| --- | --- | --- | --- | --- |
| | 100% Max $500 | 5.0 ⭐️ | | Visit Site |
What are the Benefits of Using PayPal as a Prepaid Funding Option?
PayPal is one of the most convenient and user-friendly online banking services available. Funding your account is fast and easy, and once money is loaded up, you can use you PayPal balance as your self-imposed spending limit.
Because PayPal bet funding is possible via a number of different methods, it is widely accessible for players all around the world, and nearly every online gambling site supports PayPal deposits in some manner or another.
Best of all, PayPal has a remarkable security profile and a stellar reputation for customer service. The company uses state-of-the-art SSL and TLS encryption, and they offer a number of service guarantees that give their hundreds of millions of global members true peace of mind.
How Prepaid PayPal Gambling Works
There are essentially three ways to use your PayPal account as a prepaid gambling deposit method: PayPal direct payments, PayPal voucher code payments, and PayPal prepaid Mastercard payments (via PayPal Cash Card). A fourth method – cryptocurrency transfers – should be available in the near future.
PayPal Direct Gambling Payments
For international players, you can simply load the amount of money that you want to spend into your PayPal account ahead of time, designating those funds as your self-imposed gambling spending limit. Then, just visit any site that supports such payments, enter the amount you wish to deposit, and submit the form.
PayPal transfers of this sort process instantly, and you can be gambling for real money in seconds. However, please remember that this method currently will not work for USA players.
PayPal Gambling Voucher Payments
For players in America, PayPal allows you to buy and sell online gambling voucher codes or player transfers, which is the only way to use the P2P aspect of the service when betting over the Internet. International players can also take advantage of this at sites that support vouchers.
Currently, the online online gambling operators that accept betting vouchers or player transfers are the Bovada family of sites (Bovada LV, Slots LV, Café Casino).
PayPal voucher transfers allow for same-day deposits and same-day payouts when used to buy gambling account balances and sell gambling account balances via your site's voucher platform. Voucher codes can be bought and sold at Bovada LV and various Bovada sister sites, though other reputable gambling operators should support the model in the near future.
PayPal Cash Card Gambling Payments
Both USA and international players can use their PayPal account balances to fund a Prepaid Mastercard (or PayPal Cash Card) for those sites accepting Mastercard deposits, as all top prepaid gambling sites do.
That said, USA bettors may run into issues with the UIGEA banking regulation from time to time, which means their online betting deposits may be inconveniently declined (even though they themselves have broken no laws nor done anything wrong).
This is the one drawback of US residents using PayPal as an "e-Wallet" for online gambling.
PayPal Cryptocurrency Gambling Pyaments
Finally, you can kind of use PayPal to buy select cryptocurrencies like Bitcoin, Litecoin, Ethereum, and Bitcoin Cash, which most online casinos, sportsbooks, and poker rooms accept. However, PayPal does not yet allow for crypto transfers outside of your PayPal wallet, so this online gambling banking option isn't quite ready for primetime.
Once PayPal does allow for crypto trading and external transfers to vendors and other online crypto exchanges, this will become the easiest and best way for online gamblers to buy Bitcoin and altcoins for use at legal prepaid betting sites.
Using Online Gambling Vouchers With PayPal
Online casino vouchers, online poker vouchers, and online sports betting vouchers are the most universal way to use PayPal to fund your Internet gambling activities. Further, they are the only way that USA players can fund their online betting with PayPal's P2P service, while also making them eligible to claim same-day payouts on their winnings.
Not all online gambling sites support vouchers (Bovada is currently the most popular option, as Bovada Vouchers have recently taken off in a big way), but we expect most reputable gambling vendors to accept vouchers and player transfers going forward.
To demonstrate the PayPal-Voucher system, we'll cite the process as employed by Bovada LV: You can use PayPal to buy Bovada Vouchers (and vouchers from other sites once they support this new banking option) by visiting the Bovada Community forum and finding an ad for a Bovada Voucher code at the amount you wish to buy.
When you buy a voucher, you are buying a portion of a fellow site member's account balance. Because this fellow member is located in your same country (i.e. the USA) – and because this is a private transaction – you can use PayPal to complete the purchase. Then, just enter your voucher code at your site's Cashier page, and you're ready to gamble!
Remember: Gambling vouchers can also be used to effectively claim quick same-day payouts via PayPal, and they currently represent the only way for US players to use PayPal and other popular person-to-person instant-pay services to fund their online betting accounts.
Transferring Funds Using PayPal
Once you have selected one of the above options for funding your prepaid casino account, prepaid poker account, or prepaid sportsbook account, you can proceed to the cashier section of your site, select the Voucher or Mastercard option depending on your preferred method and region, and fund your account.
That said, please remember that buying or selling online gambling vouchers will require you to first either find voucher codes for sale or create voucher codes via your site's cashier to sell to other members. Though this is an added step, it opens the door to using PayPal for US players, and is thus well worth it.
Can USA Players Use PayPal for Online Gambling Account Funding?
As mentioned previously, this payment method as used directly is only for non-USA players. PayPal will block any type of gambling-related transactions attempted by their US customers if done via PayPal P2P options.
That said, if US-based players use vouchers or player transfers (such as those supported by Bovada), they can then use PayPal or any other P2P instant-pay service to indirectly fund their online gambling deposits and withdrawals as outlined above.
American players seeking other viable USA-friendly prepaid deposit methods can check out any of the following: MST Gift Cards, PasteandPay EZ Voucher, Union Pay, or any of the prepaid debit card brands such as Prepaid Visa, Prepaid MasterCard, or Prepaid American Express.
Visit PayPal's commercial website to learn more about how PayPal deposits work, any applicable fees, and other important information about their services.
Disclaimer: PayPal does not endorse this website or any other online gambling resource/betting venue.