Maestro Gambling Sites - Using Maestro Prepaid Debit Cards For Online Gambling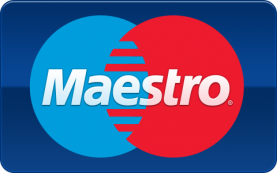 Prepaid deposit options are growing increasingly popular with online gambling sites. Part of this is their anonymity, accessibility and fixed amounts (you can only wager what is in your prepaid balance). There are many prepaid gambling options out there, and Maestro Card is one of the most well-known in the industry, with a growing number of interactive betting destinations falling into the category of Maestro prepaid gambling.
The Maestro debit card is backed by MasterCard and has been operational since 1992. Maestro Card users have access to an international network of shops, websites and ATMs. The prepaid method is accepted at 13 million different locations in 100 countries. You also have the option of linking your Maestro Card to your personal account. Maestro debit cards are not available to USA residents, however prepaid MasterCard gambling options are available to American gamblers.
This page was created specifically for those interested in using Maestro Card to fund their online gambling accounts. You will find information regarding how the card works, the benefits of using Maestro, information on the security backing the prepaid currency form, and which legally sanctioned online gambling sites accept Maestro card deposits. There is also an FAQ section with supplementary information to address any questions or concerns you may have relevant to Maestro prepaid gambling.
Online Casinos That Accept Maestro
| Site | Bonus | Rating | USA | Visit |
| --- | --- | --- | --- | --- |
| | 100% Max $3,750 | 5.0 ⭐️ | | Visit Site |
Sportsbooks That Accept Maestro Prepaid Deposits
Poker Sites That Accept Maestro
| Site | Bonus | Rating | USA | Visit |
| --- | --- | --- | --- | --- |
| | 100% Max $500 | 5.0 ⭐️ | | Visit Site |
How Prepaid Maestro Cards Work
Prepaid debit cards function like a traditional debit card, with one exception. There is no line of credit or potential overdrafts. You can only spend money that has already been loaded onto the card. Many players prefer this approach for several reasons, including the fact that your bank account information is protected, and you cannot spend more money than you intend because the card must be pre-loaded. You will find that this process is consistent across all venues, including prepaid casinos, prepaid sportsbooks and prepaid poker sites.
Using Maestro Prepaid Card To Fund Your Online Gambling Account
When depositing funds into your online gambling account, using your Maestro prepaid card is easy. Simply select the Maestro prepaid card option when reviewing the available deposit methods in the cashier menu. Once you have the option selected, you must enter the card information and how much you want to deposit. Keep in mind that you can only deposit an amount that is less than or equal to what is loaded onto the card. Online gambling sites often have deposit limits associated with each method, however there usually will not be any additional fees tacked on to a Maestro deposit. Any fees will be minimal when compared to other deposit methods.
Using Maestro Card To Withdraw Your Winnings
As long as you use your Maestro Card to deposit funds into your account, you will also be able to use this prepaid option for withdrawing your winnings. You simply select Maestro from the menu of withdrawal options in the gambling site's cashier or banking suite and you will be prompted to complete the process of requesting a withdrawal.
Maestro Card SecureCode
Security is the primary concern for any online shopper. This is especially true when divulging sensitive information to an online gambling site. Reputable online gambling sites utilize data encryption technology to guarantee your information is kept secure, but added layers of security are always welcomed. Maestro prepaid card users can take advantage of MasterCard SecureCode when using their card online as that added layer. Being backed by MasterCard also lends Maestro Card credibility on the security front.
SecureCode bolsters your card's protection by giving users a secret code that is only known by the cardholder and the bank. This security odds prevents unauthorized use of the card. When using your Maestro prepaid card, you will be asked to enter in the security code at the time of deposit as a way of verifying the identity of the user. A separate pop-up window will appear asking for you to enter in your SecureCode. Once the code is entered your transaction will be verified and processed successfully.
Benefits Of Using A Maestro Card
There are several different benefits available to Maestro users. The first advantage is that there is an established limit. When using the prepaid option, online casino users can only gamble what is in their account. Limiting the amount you can gamble with is beneficial in ways of its own.
Another Maestro advantage is privacy. Prepaid cards do not have any of your sensitive information attached to them. All you need to do is enter the appropriate information needed for a transaction. If your Maestro Card is linked to your personal account, rest assured you information is backed up.
This brings up the next advantage: security. As previously mentioned, SecureCode helps safeguard your personal information. Data bit encryption from the online casino compliments the security protocols put in place by your financial institution. Also, prepaid cards are not stored the same way as other debit/credit cards in online databases. This helps to protect your identity from fraud and theft.
Maestro deposits are fast. Once your transaction has been verified, the deposited funds will be available in your online casino account. If you run out of money in your account balance, simply load more on to your Maestro Card and then deposit it into your casino account.
You have the option for both. Maestro is a common debit card internationally, one of the most recognized brands, in fact. If you would rather not link it to your personal bank account, you may use it as a prepaid card.
No. Maestro Card is not an acceptable method for USA players at this time.
Yes. Maestro is widely popular outside of the USA. There are millions of Maestro Card users worldwide. As mentioned previously, they are tied to the MasterCard network and are therefore backed by one of the most reputable financial businesses in the world.
Yes. The online gambling sites listed on this page represent the most trusted, respected and reputable destinations within the industry.  They are legally licensed and regulated, and provide a premium online gambling experience that includes an efficient and reliable banking suite.
Additional Prepaid Debit Cards:
Prepaid Options For UK And International Players
Maestro Company Information
You can get additional information by visiting the Maestro official website here: www.Maestro.com.
If you'd like to speak to someone about Maestro or MasterCard, you can get information about how to contact them from this page: Contact Us
Disclaimer: Mastercard/Mastercard Maestro does not endorse this website or any other online gambling resource/betting venue.