Online gambling sites accept various forms of currency to accommodate their international audience. From credit/debit cards to cryptocurrencies to prepaid methods, there are plenty of options to choose from. One available method is known as iDebit, a secure online payment form that utilizes online banking. iDebit gambling sites are beginning to emerge as a preferred option for international players seeking reputable prepaid gambling sites. iDebit connects users' online banking account and merchants directly.
You can sign up for an iDebit account or continue as a guest, then you log in to your online banking account with the same credentials to approve the transaction. This process safeguards your personal information by not sharing it with the merchant. All banking credentials stay secure with you and your financial institution. Your bank must have online banking in order for you to be able to use iDebit. You also have to be at least 18 years of age. This page contains relevant information on iDebit prepaid deposits, including how to create an account, how to deposit with iDebit and more.  iDebit is one of the more convenient prepaid gambling deposit methods out there, and becoming available at prepaid casinos, prepaid poker sites and prepaid sportsbooks.
Online Casinos That Accept iDebit
| Site Name | Bonus | Rating | USA Friendly | Visit Site |
| --- | --- | --- | --- | --- |
| | $100 Bonus | | | Visit Site |
Sportsbooks That Accept iDebit Prepaid Deposits
Poker Sites That Accept iDebit
| Site Name | Bonus | Rating | USA Friendly | Visit Site |
| --- | --- | --- | --- | --- |
| | $1,000 Bonus | | | Visit Site |
What Countries Support iDebit?
iDebit is supported in Australia, Austria, Belgium, Canada, Estonia, Finland, France, Germany, Great Britain, Hong Kong, Hungary, Italy, Japan, Latvia, Lithuania, Netherlands, New Zealand, Poland, Portugal, Slovakia, South Africa, Spain and Sweden. iDebit is not available to residents of the United States.
Opening An iDebit Account
As mentioned earlier, you can utilize iDebit as a member or a guest. As a guest, you must enter in the same login credentials as your online banking account. iDebit will link and authenticate your bank information before completing the transaction. You will be given the option of creating an iDebit account for any future transactions. You will need the following information to sign up for an iDebit account: username, date of birth, contact details, email address, password and security questions. After you have successfully registered your account, you can link your personal bank account to your iDebit account to streamline the transaction process.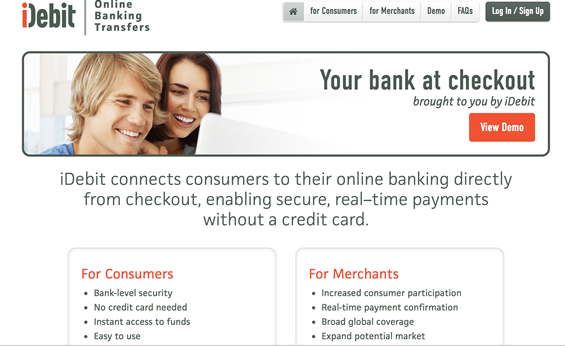 How To Use iDebit Prepaid Deposits To Gamble Online
If you want to use iDebit as a deposit method with an online gambling site, simply select the "iDebit" option from the menu in the Cashier or Banking Suite. There will be a minimum and maximum deposit limit that users must adhere to. The gambling sites that allow iDebit deposits do not charge any fees for these deposits, but iDebit does apply fees to certain situations. You can avoid any additional fees if you are sending money directly through your iDebit account. If you are a guest simply utilizing the service, you will be subject to additional fees through iDebit. You have the option of toggling between accounts. Conversion/exchange rates will be applied to your transaction. Deposited funds will be available as soon as your transaction is processed.
Withdrawing Funds With iDebit
iDebit withdrawals act more as transfers than they do withdrawals. You can transfer money from your iDebit account to your personal banking account. Most online gambling sites that process iDebit transactions are able to complete your withdrawal within 24 hours and do not charge any type of fees for the transaction.
Is iDebit Secure?
Security is one of the primary benefits enjoyed by iDebit users. iDebit keeps your information between you and your financial institution. They never share your information with third-party merchants, such as iDebit gambling sites. This online banking transfer service takes serious measures to authenticate the information you provide to confirm your identity. If you are not using your direct iDebit account, you are required to enter your correct login credentials for your banking institution and answer the designated security question correctly. Any information transmitted throughout the duration of the transaction is backed up by 128-bit encryption technology. iDebit's servers are also safeguarded in a state-of-the-art facility with 24/7 security.
Benefits Of Using iDebit
iDebit users are able to capitalize on several benefits. Anonymity is a favorable component of any online gambling site. Being a prepaid gambling option, users do not have to disclose any sort of personal information (aside from the information you used to open your account). All sensitive information is kept between you and your bank, especially if you are depositing through your iDebit account as opposed to using iDebit as a mediator.
Another distinct benefit is the lack of fees. When depositing with your iDebit account balance, there are no fees tacked on. If you are still using your personal bank account, the highest fee is 1.50 (CAD). If you are transferring funds from your iDebit account to your personal account, the highest fee is 2.00 (CAD). There are no additional hidden fees associated with any transaction.
With iDebit, transactions are processed relatively fast. The merchant will receive instant confirmation of your deposit and your deposited funds will be available shortly thereafter. You can view your account balance and transaction history at any time.
As a prepaid gambling option, you can limit how much you deposit at a time. You can only deposit money if you have sufficient funds loaded onto your card. This puts a cap on how much you are gambling with, which is a preventative measure for online gambling addiction.
FAQs
Do I Need A Credit Card To Use iDebit?
No. iDebit essentially acts as a prepaid transfer. It links your online bank account directly with the merchant site.
Can I Use iDebit Without Online Banking?
No. You need an online banking account in order to utilize iDebit's services.
Does iDebit Have Some Form Of Customer Support?
Yes. Users can contact iDebit through email, phone or live chat.
Is There Any Multi-Factor Authentication?
Yes. You must enter your online banking credentials and successfully answer the security question.
Can I Make Deposits With Online Gambling Sites Using iDebit?
Yes. You can choose iDebit as your primary deposit method if the online gambling destination accepts iDebit deposits.
Additional Prepaid Options For UK And International Players
iDebit Company Information
You can learn more about this prepaid deposit method by visiting the iDebit official website here: www.iDebit.com.
You can speak with someone in customer service by sending an email to this location:  support@idebitpayments.com
---
Disclaimer: iDebit does not endorse this website or any other online gambling resource/betting venue.